It is believed that my great great greatgrandparents, David and Nancy Ann Hall Crotser are buried on their old homestead near Vera, Illinois.
Below are the pictures of the gravestone of my great-greatgrandparents, Nancy Jane Johnson Crotser and Gibert H. Crotser.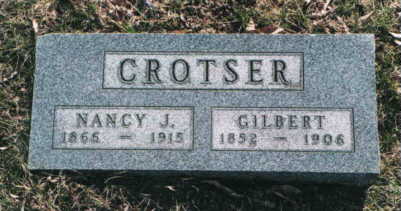 Next is the gravestone of my greatgrandfather, Fredrick Gilbert Crotser. Both of these burials are at Sharon Cemetery, Vera, Illinois
.